Previously I posted that THE WAR BENEATH was a semi-finalist in the 2018 GLOBAL THRILLER Awards. I found out on Friday 10 May that the book won First Place in the Action / Adventure category. These awards are known as the CIBAs. Here's the announcement:
The GLOBAL THRILLER Book Awards for Lab Lit & High Stakes Thriller Novels – Grand Prize and First Place Category Winners – CIBAs 2018
Thanks to the judges who read the book and selected it as First in Category.
The book was also Semi-Finalist in the 2018 CLUE Awards.
The Back Cover Copy:
Living and working underwater can be a dangerous thing. First the bulkheads sweat, then there's a trickle of water . . .
. . . and then in an instant you're gone. The only thing left is a bloody pulp in the dark water and crushed bone fragments on the seafloor.
And you can't bolt to the surface in an emergency. . . .
The bends will get you.
But that's not the worst. When you're living underwater and also working as a spy for your city, that's when things get really dangerous.
Truman McClusky has been out of the intelligence business for years, working the kelp farms and helping his city Trieste flourish on the shallow continental shelf just off the coast of Florida. Until his former partner shows up, that is, steals a piece of valuable new technology and makes a mad dash into the Atlantic. Before he knows it, Mac ends up back in the game, chasing the spy to not only recapture the tech, but to kill his former friend.
But when he learns the grim truth behind the theft, it sends his stable life into turmoil and plunges him into an even deadlier mission: evade the submarines of hostile foreign powers, escape assassins, and forge through the world's oceans at breakneck pace on a daring quest to survive, with more lethal secrets than he thought possible in his pocket.
The future of the city depends on McClusky . . . if he can make it back home.
Learn more about THE WAR BENEATH at the publisher ChiZine's site here, including links to articles and a radio interview featuring yours truly.
To my readers and fans, thanks for your ongoing support!
— Timothy S. Johnston, 13 May 2019
Follow TSJ on Facebook
Follow TSJ on Twitter
Follow TSJ on Instagram
Enter TSJ's contests here.
Enter your email into the sidebar widget to follow TSJ's blog Life After Gateway.
Winner of the 2018 GLOBAL THRILLER Award for Action / Adventure
Semi-Finalist for the 2018 CLUE Award
THE WAR BENEATH by TSJ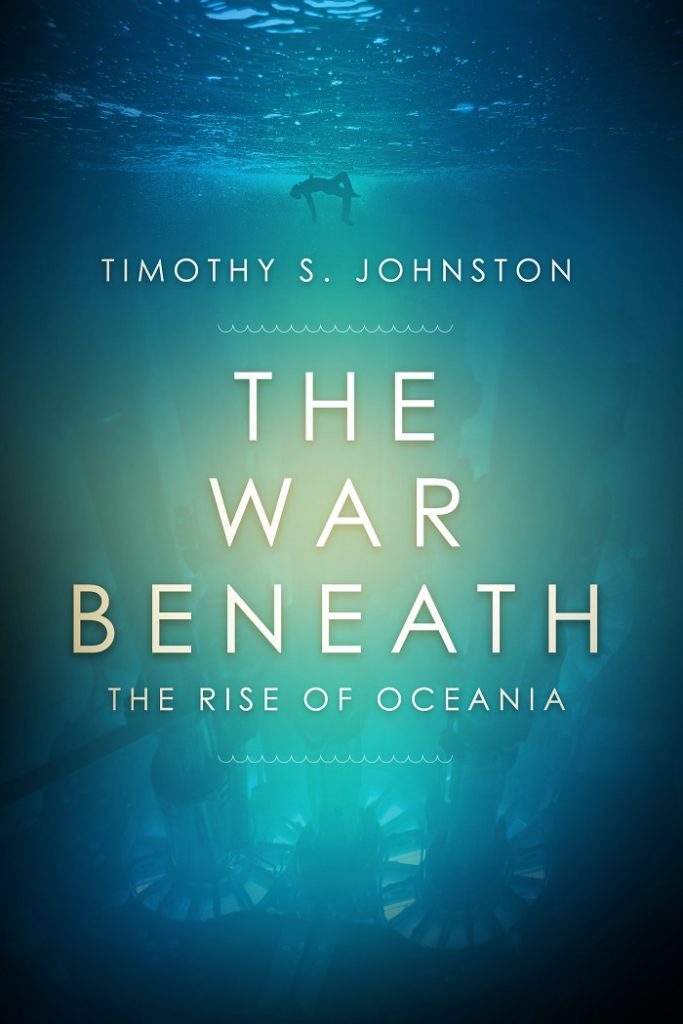 Praise for the War Beneath
"One very riveting, intelligent read!" — Readers' Favorite
"If you like novels like The Hunt for Red October and Red Storm Rising,
you will certainly enjoy The War Beneath." — A Thrill A Week
"If you're here for thrills, the book will deliver." — The Cambridge Geek
"This is a tense, gripping science fiction/thriller of which Tom Clancy might well be proud . . .When I say it is gripping, that is the simple truth." — Ardath Mayhar
"… a thrill ride from beginning to end …" — SF Crowsnest
"… if you like Clancy and le Carré with a hint of Forsyth thrown in,
you'll love The War Beneath." — Colonel Jonathan P. Brazee (RET),
2017 Nebula Award & 2018 Dragon Award Finalist
"Fast-paced, good old-fashioned Cold War espionage … a great escape!" — The Minerva Reader